Autumn
For shorter and cooler autumn days
Parachute Adams
Gray Wulff
Tups Indispensable
Daddy Long Legs
Peacock herl Daddy
Cinnamon Sedge
As the water cools and the days become shorter, hatches of Pale Watery Duns and Spurwings can be prolific. Try a Tups Indispensable or a pale coloured CdC or Klinkhammer. With a good number of Sedges around, a Black Horned pattern is pretty effective too.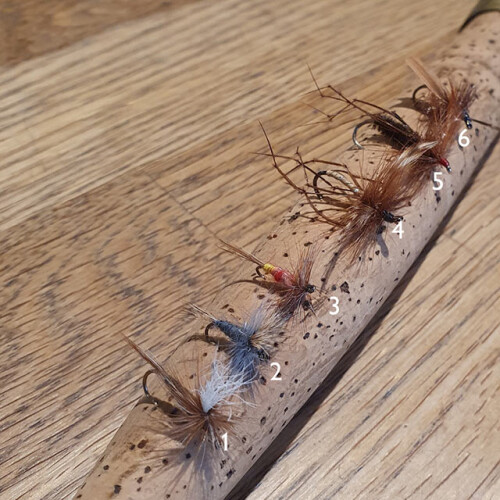 Spring
Ahead of the Mayfly as the days warm up there are usually a few Hawthorn flies around. Use general Olive patterns, Iron Blue ,CdC's , Klinkhammers and some Pheasant Tail and Hare Ear nymphs.
There is usually lots of Mayfly activity from late May into June. If the fish aren't rising for a Mayfly try using an Iron Blue - often preferred by some fish at this time of year.
Summer
A pattern for the warmer summer months
Parachute Adams
Gray Wulff #16
Cinnamon Sedge
Black Horned Sedge
Elk Hair Sedge
Little Red Sedge
Tempt Trout during the warmer weather, with a Yellow Humpy or a Peacock Daddy Long Legs as they move to deeper holes and beneath tree cover for shelter.
There are regular rises on summer evenings and usually a Cinnamon Sedge or Lunns Particular will catch.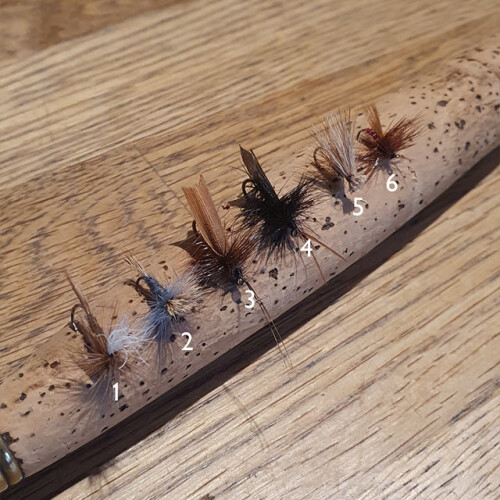 A fly for all seasons
You can try any of the following across the fishing season.
Leckford Professor
Greenwells Glory
Lunns Particular
Black Parachute
Parachute Adams
Gray Wulff #16
Ginger Quill
Beneath the water's surface there are days when the fish will be preoccupied with subsurface food. On these days use a nymph fished upstream, such as a small weighted Hare's Ear or Pheasant Tail.