Our Produce
While we stock the very best from local suppliers, we also provide a quality range of Waitrose & Partners essentials for our customers' everyday shopping needs.
Our Partners are all knowledgeable and passionate about our own-label Leckford Estate products that include our Leckford Estate Brut, Leckford Estate Rapeseed Oil and our Leckford Estate Flours. We have a dedicated Supplier Liaison Partner seeking out suppliers and producers who share our values and work sustainably and ethically.
Our team is determined in finding the most delicious, highest-quality produce – taste tests obligatory (and all part of the job!).
Deli Meats
We stock a range of deli meats in our chiller that we're sure you'll love as much as we do.
These are from an award-winning regional supplier based in Cornwall. They use prime cuts of meat sourced from local producers, with no artificial colourings, flavourings or phosphates.
What's more, they use only renewable sources of electricity and keep packaging to a minimum.
Meats include artisan salami, prosciutto, coppa, bresaola and pancetta.
Cheeses
Our range of cheeses has something to suit all tastes and occasions, including many tempting local and regional options. This includes the first British cheese that is rind-washed in English sparkling wine. This pasteurised cheese has been washed in our very own Leckford Estate Brut by one of our expert British cheesemakers, Nettlebed Creamery.
Hosting guests or simply treating yourself? Read our guide to pairing cheese, wine and accompaniments.
How to pair your cheese and wine
Ready-to-Cook Options
We have the perfect solution for those busy midweek dinners or weekend evenings when you just want to relax: Cook ready meals, available in our freezer year-round.
Cook produces a range of hearty and comforting options that you can enjoy on your own or with your friends and family. The company has the best chefs and uses the best ingredients, so all their meals taste homemade.
As the team at Cook would say, "even good cooks enjoy a night off." There's no need to compromise on taste just because you're not doing the cooking!
Sweet Treats
You'll love our sweet treat selection, featuring traditional sweets that you'll remember from your childhood as well as a variety of flavoured chocolate.
If you're a chocoholic or a chocolate connoisseur, or you're seeking a thoughtful gift or you simply just want to indulge yourself, we stock a selection of unforgettable chocolate treats from Love Cocoa and Chococo.
Love Cocoa, founded by James Cadbury, ensures all of their chocolate is made with premium ingredients and is bursting with a symphony of flavours. Not only caring about the quality of its chocolate, but also about the local communities within the cocoa producing regions. The company plants a tree for every chocolate bar sold.
Chococo, an artisan producer of chocolate based in Dorset, creates meticulously crafted truffles, pralines and seasonal delights made from ethically sourced ingredients. Their collection brings a touch of artisanal elegance to our range and to your taste buds.
Everyday Essentials
While artisanal treats are always appreciated, we want to make sure your everyday items are covered too. So at our farm shop we offer a wide range of high quality and sustainable products that we're sure will meet your daily needs.
You'll find fresh produce from the Waitrose & Partners farm, freshly baked bread delivered daily, seasonal fruit and vegetables from Hampshire and our own apples and pears from our farm's orchards in early autumn. Store cupboard staples include a range of Yarty products and the golden goodness of honey sourced locally from the beekeeper we work with in our own orchards.
From fresh produce to pantry staples we strive to provide a one-stop destination for all your necessities. So, experience the ease of shopping in this charming setting, where both community and quality come together.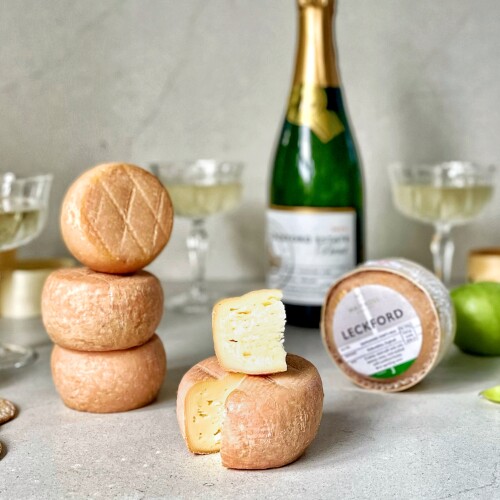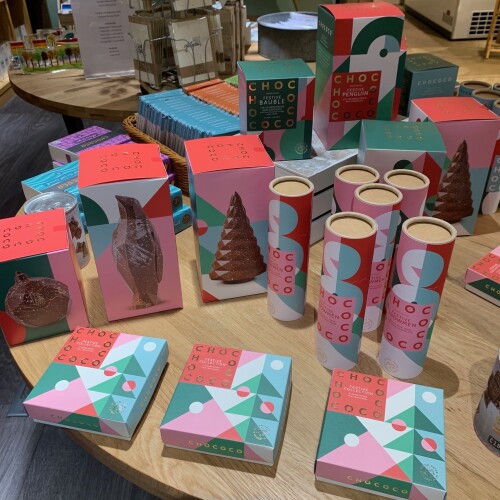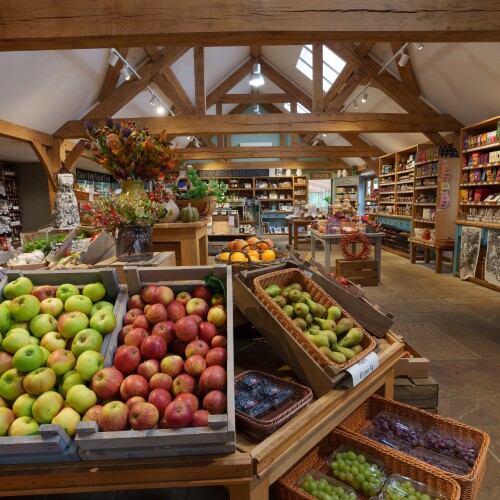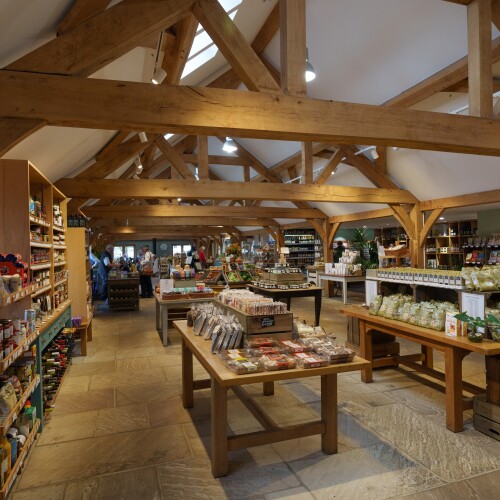 Wines, Beers and Spirits
Leckford is a producer of sparkling wine, so we're pleased to bring you this and a carefully curated selection of other English tipples.
Many of the wines we stock come from Hampshire, such as Somborne Valley Vineyard, Danebury Vineyards and Hattingley Valley. Others are from nearby regions, such as Chapel Down, Alder Ridge Vineyard, Denbies and Bolney.
Our drinks range features locally brewed beers, from pale to the darkest brews, all with their own character.
Lots of our spirits are local and regional, too, including gin that uses the clear waters of the River Test and vodka crafted from the by-products of cheese production. One of our favourites is Beeble Whiskey, which was created by a honey producer that didn't want to waste any of the product from its hives.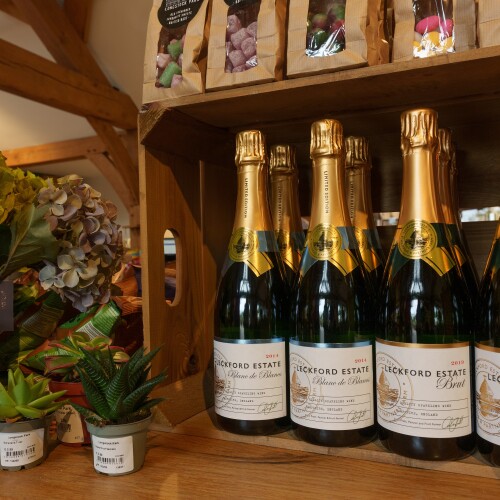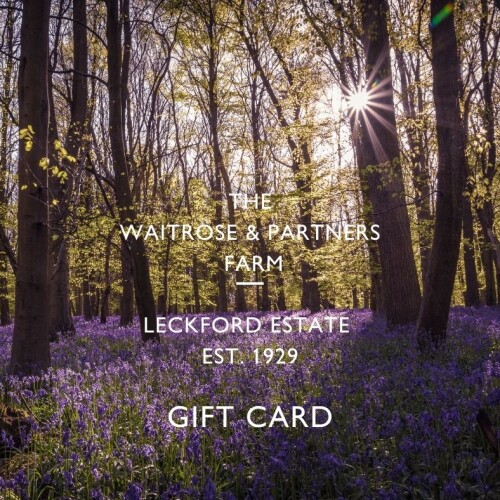 Fresh Cut Flowers
Our fresh flowers are nearly always seasonal and the majority are sourced from British growers. We have a wonderful range of carefully crafted seasonal bouquets that use British grown flowers that are in season whenever possible, and use minimum plastic, meaning the bouquets are beautiful and sustainable too.
These beautiful hand tied bouquets can be found at the farm shop, making a perfect gift for someone or take one home for yourself.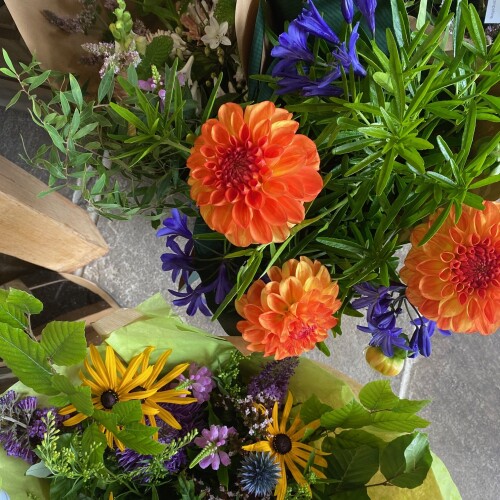 Gifting and Homeware
Next time someone you know has a celebration, why not give them one of our eco-friendly greeting cards? The card is sourced from well-managed forests, the inks used are vegetable-based, and all envelopes are made from recycled paper with fully compostable outer slips.
For a blooming beautiful gifting idea, we stock cards, wrapping paper and gift tags that can be planted. The items are embedded with seeds that transform into wild flowers that create a lasting reminder of your thoughtful gesture.
Continuing our sustainable gifting initiatives, we have removed all glitter products from our ranges on sale, just like the rest of the John Lewis Partnership.
And it's not just cards and wrap we offer. We also showcase delightful homeware and gifting options, all crafted by guest artists from Hampshire. Using farming, animals and the outdoors as their theme, they've produced a range of fun and quirky items you won't find anywhere else. These include pictures, pots, tablecloths and tableware – perfect for treating yourself to or give to a lucky loved one.
We also stock beautiful individually designed glassware and pottery produced in Hampshire.
Leckford Estate Gift Cards
Did you know you can also purchase The Waitrose & Partners Farm Gift Card? Our gift cards can be redeemed at Longstock Park Nursery, Farm Shop, Café and Longstock Park Landscapes. The perfect present for all occasions.