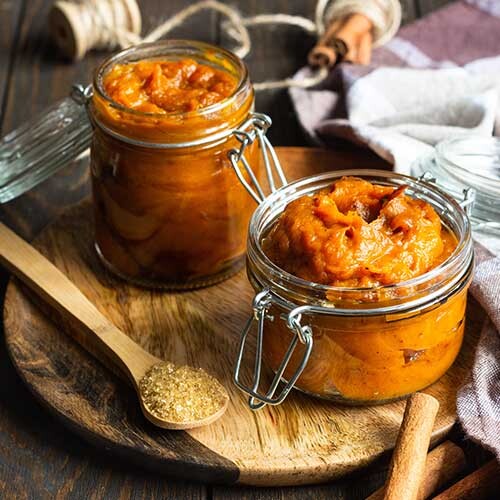 Pumpkin Delights
The change in season brings with it a whole new colour palette and delicious new flavours with seasonal produce. Deep reds, browns and burnt oranges dominate, and pumpkins naturally come into their own. Head over to the Leckford Estate Farm Shop to pick yourself up some pumpkins. To make the most of the season, you could have a pumpkin carving competition with your family as Halloween descends, using the pulp of the fruit for some tasty treats.
Designed to inspire creativity in the kitchen, there are plenty of Waitrose recipes to try, such as a warming pumpkin pie or even a cosy pumpkin soup with cheesy toast, chilli corn and seeds. For more inspiration, take a look at our Pumpkin Inspired Recipes blog.
How to Look After your Garden this Autumn
Your garden becomes a hive of activity in the autumn. With falling leaves, an abundance of fruits and vegetables, and fast-growing lawns, now is the perfect time to spruce things up.
There are a few simple activities you can complete that ensure your garden is well maintained throughout the colder weather, and ready to thrive when spring comes around.
Sweep away any fallen leaves – once dry and crunchy, these can be repurposed as mulch throughout your borders.
Empty your compost bins – using last year's compost throughout your garden not only aids in providing much needed nutrients to your existing plants, but also gives more space for your new garden waste.
Tidy up your borders – cutting back perennials, deadheading your plants and planting pansies and wallflowers ensure you're in for a vibrant display come spring.
Rake your lawn – removing moss and thatch and adding this to your compost bin is a great way to keep your lawn luscious. Be sure to check you have suitable drainage and aeration around any pathways too, using a garden fork where necessary.
Make way for evergreens – with warmer soil and cooler air, fill any gaps in your garden with evergreens to add interest.
Cover your pond – falling leaves can cause huge problems blocking pumps and filters. To save yourself trouble later down the line, fit a net to your pond by weighing it down with bricks to help you collect the leaves throughout the season.
Wrap up any delicate plants – with frost creeping in and more adverse weather conditions, it's important to protect delicate plants so they endure the autumn/winter period. Using burlap and twine or horticultural fleece or bubble wrap is a simple but effective way to keep them safe.
Visit our Leckford Nursery and Garden Shop to discover our range of garden tools, seasonal bulbs, feed, and evergreen plants in preparation for autumn.
Leckford Estate Garden Design Services
If you need help preparing your garden for autumn, or if you want a complete garden refresh but have no idea where to start, our expert horticultural team would be delighted to provide inspiration and help you to create your dream garden.
Our Garden Design team has a plethora of knowledge. We can help with improving soil health, using sustainable materials and by sourcing and planting trees from our nursery that will not only support local wildlife but are also native. The team also have a keen eye for design to really make the most of your outdoor space.
No matter the size of your garden, we can create a stunning design that suits you through our Garden Design Service. For more inspiration, take a look at some of our previous designs.