Wrap up warm and head to our nursery, shop and café for some festive browsing. And so that you have a better idea of what is going on, we've listed out the top activities below:
'Meet Our Producers' Evening Shopping Event
When? Thursday 25th November 2021 from 6pm (This relates to a 2021 event - please see our events page for the latest events at Leckford)
Where? Longstock Park farm shop and Nursery Garden shop
Make a note in your calendars to come to the Longstock Park farm and Nursery Garden shops to meet our suppliers and producers. Not only do you have the chance to get to know the amazing people behind the production of our delicious produce, but you will also be able to shop for a wide range of winter and Christmas foods and gift ideas.
This lovely event is a shopping evening open to the public, and we'll have tasty food and drink on offer to sample, including lots of free mince pies and mulled apple juice.
Browse the themed tree displays in the garden shop and make wreaths and decorations for your home with our Nursery Partners.
We will be joined at our event by many of our drinks producers, with samples on offer for customers to taste during the evening. These include, Black Cow Vodka, who also produce cheese, as well as their spirits. The wine producer, Somborne Valley Vineyard, who are located just a short distance from the Leckford Estate farm shop, will be talking about their wine and wine production that evening. The Flowerpots Brewery will be there for those looking for a beer-based tipple. As well as these three mentioned brands, there will be various producers of gin and cider and even a ready-made espresso martini manufacturer. It's going to be an exhilarating evening!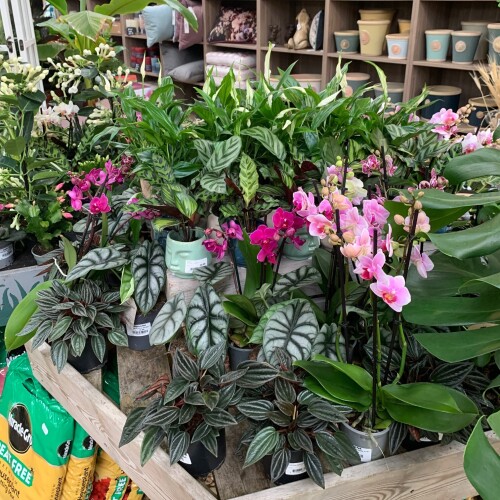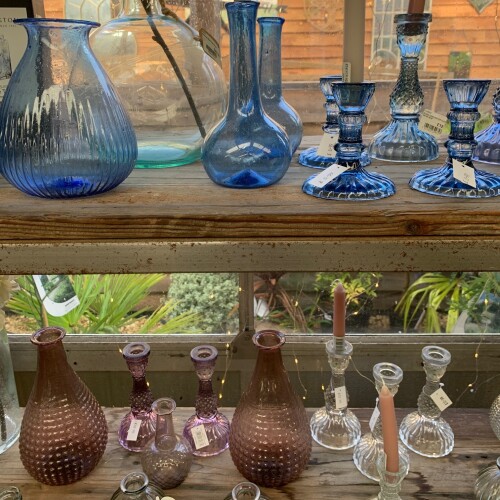 Our Top Picks for Christmas Products at the Farm and Garden Shops
We tasked some of our staff to head into Leckford Estate for a wander through the aisles of the Farm and Nursery Garden shops. We asked them to pick out their favourite items from the shelves packed full of enticing food and gifts. On this list were luxurious Christmas biscuit tins, decadent chocolates and sweets, such as our supplier Farmhouse Biscuits. These unique bakes come in a oversized Santa and elf tube, stacked with butterscotch toffee and chocolate chunk & orange flavoured biscuits. There are lots of Christmas character ginger biscuits for the children to enjoy and rich seasonal fruit cakes from The Original Cake Co. too.
Stylish homeware, table decorations and colour coordinated candles were a favourite, ideal for the festive celebrations occurring over the coming weeks; brands such as Gisella Graham, Jin Designs and Grand Illusions, found in both our farm and garden shops. Beautifully crafted glassware from Studio Zo, created in the artist's studio not too far away in Hampshire, can also be found on the shelves.
If you are a dog lover there is an abundance of gifts for dog owners, from keyrings to mugs and coasters, as well as items especially suited to the furry friend too. We stock a great selection from Sweet William based in London, gifts for the owner and their dog that can be coordinated, including cards to candles and dog tags to dog bowls. All designed with a particular pooch in mind.
And of course, we have a full range of festive tipples, English wines, local and regional beers and locally produced spirits to choose from.
We asked the Leckford Estate staff to pick out their favourites, but looking at what they came home with, I think they struggled to keep the list short, with so many great items on offer!
Recipes for Christmas Day Leftovers That Will Get Your Mouth Watering
It is so easy to cook too much, and invariably many of us are left with meat, potatoes and vegetables after the main Christmas meal. Don't let your Christmas food go to waste. Instead, whip up one of these delicious recipes and save yourself from having to resort to turkey sandwiches for days on end.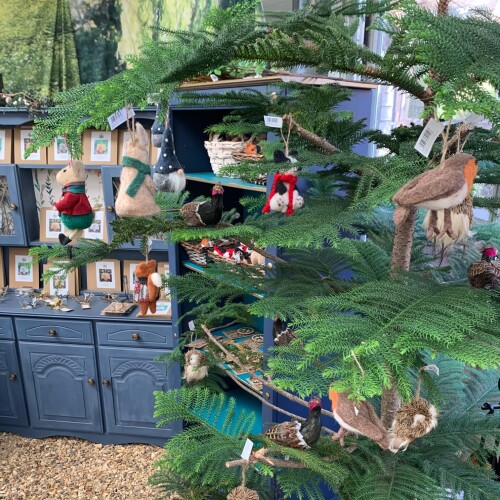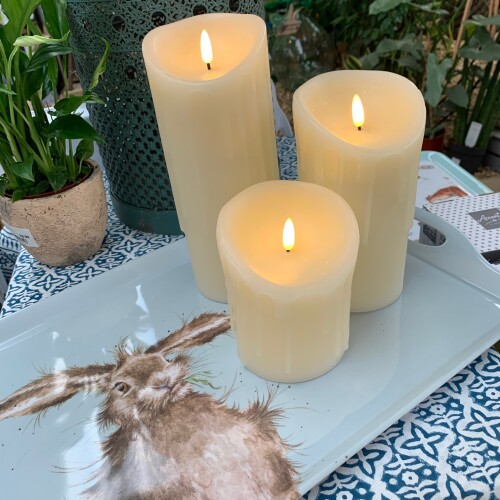 Beautiful British Christmas Tree
We pride ourselves in offering beautiful Great British Christmas trees, available to buy from the Leckford Estate Nursery from the end of November.
The Leckford Estate Nursery works with a British-based grower who has been growing trees for many years, so you can be sure that your tree is of the utmost premium quality. In addition, we ensure that each tree has a label that gives the customer the information to be able to see exactly where their tree was grown, pinpointing them on a map.
We offer a range of different types of trees: There are two varieties of cut tree available - the traditional spruce and, the more popular, soft needle fir tree. Or, if you'd prefer to grow your own, the potted variety starts at 2 feet in height, growing up to around 6 feet, and has proven to be a very popular option, as customers like to grow these on in their gardens.
Grown with Care
The trees for Longstock Park Nursery are grown sustainably and with care. The growers work with nature, making sure they look after the environment every step of the way. For every Christmas tree harvested to sell, two replacement trees are planted by the grower. Potted trees are very much a part of the sustainable offer now, as customers look to replant their tree in the garden after the festivities, making it something to be enjoyed for years to come.
Delivery Support
Customers can be assured that there will always be a helping hand or two to manoeuvre your tree to your car. You also have the option to leave your chosen tree with the team who will deliver it to your home. We offer a free delivery service for anyone living within 10 miles of the nursery; charges apply for additional miles.
Hampshire Living Feature
We are excited to be featured in Hampshire Living. You'll be able to read about how the nursery team prepared for the arrival of the Christmas stock, in particular the excitement of taking delivery of around 400 trees. You'll get a better insight into the credentials of our growers and how our trees are grown sustainably, with exceptional traceability, allowing customers to track where their very own tree was grown.
Choose Leckford Estate for your Christmas Shopping
With so much on offer in the Leckford Estate Garden Nursery and Farm shops you will be spoilt for choice. Treat the day as a shopping spree or relax and head to the café to ponder what you might like and return another time to finish off your purchases.
Our friendly staff are always on hand to help, and you can find out a lot more about Leckford Estate from our website too.
Merry Christmas!