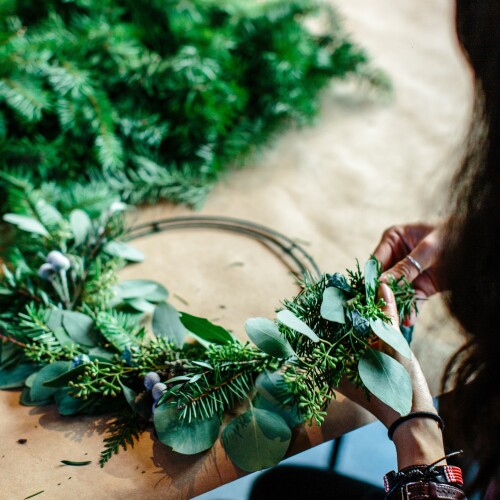 What better way to kick off the festivities this year than by creating your very own Christmas wreath?
Join us at Longstock Park Nursery for a delightful Christmas Wreath Workshop where you'll learn to design and craft a beautiful wreath to adorn your home.
What to expect
Guidance from Experts: Our experienced Partners will guide you through the step-by-step process of creating a stunning Christmas wreath. No prior experience is needed; this workshop is suitable for beginners and seasoned crafters alike.
Quality Materials: We provide all the materials you need, including a variety of fresh greenery, festive decorations, ribbons, and a wreath base. You'll have the opportunity to choose from an array of colours and styles to suit your taste.
Festive Atmosphere: Located in our nursery garden shop with its themed seasonal displays and tunes, you can immerse yourself in the spirit of Christmas as you craft alongside fellow participants. Enjoy complimentary mince pies to keep your creativity fueled.
Take Home Your Creation: At the end of the workshop, you'll proudly take home your handcrafted Christmas wreath, ready to adorn your door or become a heartfelt gift for a loved one.
Reserve your spot early to secure your place on this festive workshop.
If you have any questions or need assistance with registration, please feel free to contact us: 01264 810894
e: longstock.park.nursery@waitrose.co.uk
How to Register
To register for the Christmas Wreath Workshop, please follow these steps:
Complete the information on the booking form and we will be in touch shortly. Please state which wreath workshop you would like to attend.
Join us at Longstock Park Nursery for a day of creativity, chat and Christmas spirit. Craft a beautiful wreath to welcome the festive season into your home with style!