The product
Our flour is made sustainably from the very best wheat, which is expertly milled for a light, fine, velvety product.
We can attest that it produces delicious treats, as we use it in our Farm Shop Café every day to make the freshly baked cakes on offer.
The process
Our wheat crop is sown in the autumn, typically October, using a minimal soil disturbance technique that reduces our use of fossil fuels. We grow and harvest our arable crops in sequence within a 12-year crop rotation to help soil health and biodiversity.
After the wheat has been harvested, dried, and stored, it's milled into three types of flour: plain, self-raising, and strong white bread flour. They're all equally high-quality and all equally enjoyable to bake with.
The team
Our Arable & Livestock Manager, Tom, oversees the growth and harvest of our arable crops. He's assisted by two expert Partners, Dave and Geoff.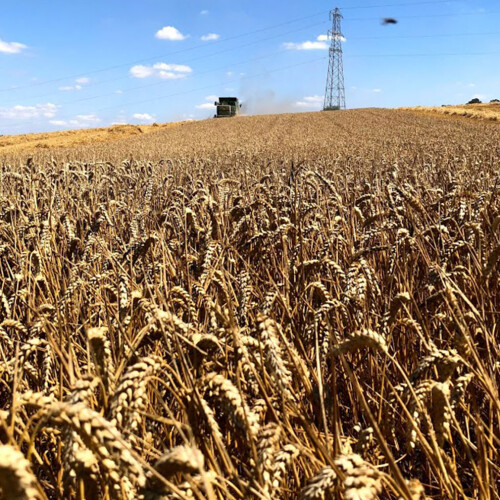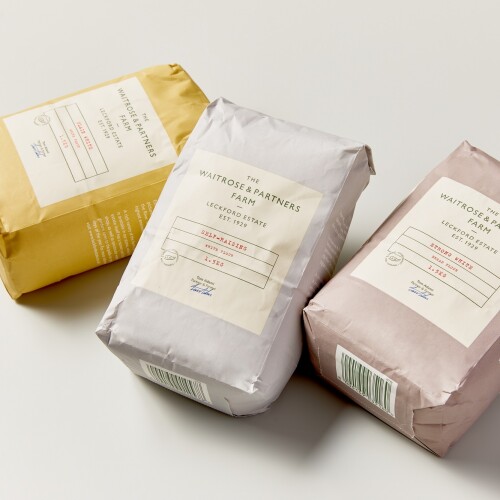 Ethics & sustainability
As a Linking Environment and Farming (LEAF) Marque certified farm, we are committed to working in a way that reduces our environmental impact.
Around 40 hectares of our arable land is left uncropped and used for conservation purposes under environmental stewardship schemes, creating valuable habitats for wildlife.
We use a minimal, sometimes zero, tillage system instead of a ploughing-based system to disturb less soil, maintain soil health, and reduce our diesel use.
What's more, we use winter "cover" crops to nurture our soil and feed sheep from another farm during the winter months, and we plant companion crops to attract beneficial insects and help control pests.
Uses & benefits
Plain flour
Use when the flour must combine well with other ingredients to create a short, crumbly texture. Perfect for shortbread, pies, cookies, and pancakes.
Self-raising flour
Use when you're baking something light and fluffy that needs to rise. Ideal for cakes, suet pastry, and scones.
Strong white bread flour
Use when you need high gluten levels to form a rich texture and crumb structure. Great for bread, puff pastry, and filo pastry.