The product
Our rapeseed oil is produced on the Waitrose & Partners farm and is pressed, filtered, and bottled by our expert Partners.
As it's cold-pressed, it retains more flavour and more nutrients.
You can buy our rapeseed oil year-round in our farm shop and some Waitrose & Partners stores.
The process
Soil health is at the heart of our cropping system. Our rapeseed crop is planted using a minimal tillage system, which causes very little overall soil disturbance. This improves soil health, retains more carbon, and reduces the amount of non-renewable fuels used by our tractors.
Once our rapeseed is harvested and stored, it's transported directly to our rapeseed oil unit, just a mile or two away from where it was grown.
During the production process, the rapeseed is pressed, and the oil is filtered up to six times to make it a beautifully clear yellow colour. The pressing process creates a pellet full of nutrients we then feed to our beef cows.
We grow and press over 350 tonnes of rapeseed every year. Our oil is sold in both 250ml and 500ml bottle sizes.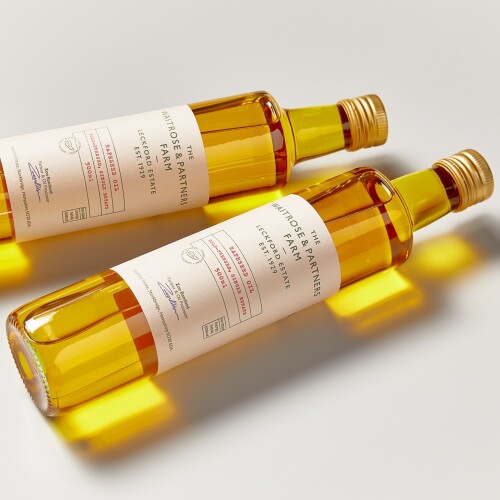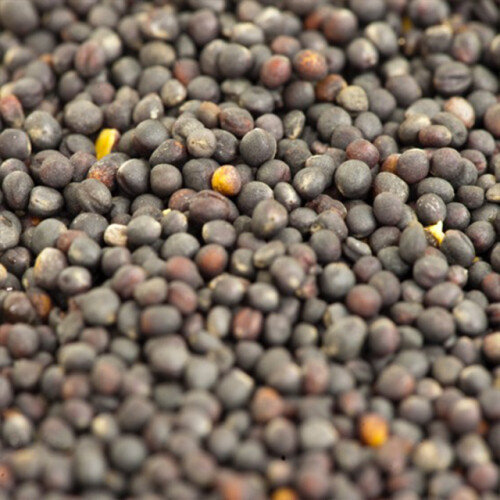 The team
Our experienced and enthusiastic rapeseed oil unit manager, Zoe, has been in charge of the unit since its creation in 2012. She's helped by a small team of specialist Partners.
Zoe is passionate about making sure every bottle of rapeseed oil is of the highest quality and packaged sustainably. In fact, she recently removed the excess packaging used when preparing the bottles for dispatch.
Ethics & sustainability
Our rapeseed oil production process generates very little waste and excess product. However, when we do have bottles of oil left over, we work with the charitable organisation
Fareshare. They distribute these bottles to the charities they support, often within our local area.
We have a steam cleaner to keep our unit spotless, which uses much less water than traditional cleaning methods.
We sell all our oil in glass bottles, which are fully recyclable and better for the environment. Plus, the fact we grow, store and process our oil on-site means we keep our food miles as low as possible.
Uses & benefits
There are plenty of uses for our rapeseed oil, including roasting vegetables and potatoes, frying and deep-fat frying, marinating and drizzling.
We also suggest using it in your baking as a healthy alternative to butter or baking spreads, as a dip for bread alongside balsamic vinegar, or as a salad dressing – on its own or combined with honey, mustard, and vinegar. Delicious!
Awards & accolades
We're delighted to have received a BRC AA certification: the best award a business can achieve within the scheme.
This provides reassurance that we use good manufacturing practices and that our hygiene, safety, and quality requirements are of the highest standard.