Leckford Farm Apple and Pear Orchard
At the Waitrose Farm, we've been busy harvesting our delectable apples and pears to be sold locally in our Longstock Park Farm Shop and a few select Waitrose stores. These crisp, handpicked goods will be available for eating but also for our Leckford apple juice and sparkling cider which will all be available from our Longstock Park Farm Shop.
Find inspiration from some of our favourite Waitrose recipes, and learn some fun ways to include apples and pears in your cooking.
Autumnal Delectable selection at the Farm Shop
Discover the beautiful selection of seasonal goodies at our Farm Shop. You can purchase everything you need to make exquisite autumn feasts, from freshly picked vegetables to gourmet cheeses and scrumptious pies.
Choccoco's pumpkin-inspired handcrafted chocolate treat. This spooky collection is available for a limited time only. Available from our farm shop for £8.50.
The Longstock Park Farm Shop also hosts beautiful home décor items that perfectly reflect the spirit of the season in carefully crafted collections. Each product captures autumn's splendour, whether through handcrafted ceramics, country-style linens, magnificent centrepieces, or aromatic candles. Additionally, by supporting our farm store, you are promoting local artisans, as we are delighted to highlight the skills of individuals who live in our thriving community.
Charming seasonal "autumn moo" mug from Lucy's Farm based in Swanage. A delightful addition to your collection of mugs with its rustic feel and golden hues and the familiar whimsical cow. Available from our farm shop for £15.
Add finishing touches to your home this autumn. Fabric soft plush pumpkins, handcrafted in various sizes, from classic orange to rustic browns. Also, our charming seasonal Gonks can adorn shelves, tables and hallways.
Over at the Leckford Nursery and Garden Shop, you can purchase spring bulbs - plant now for stunning spring colour displays. We stock Taylors bulbs, a fourth-generation business committed to growing and supplying high-quality flower bulbs. Pick up some of your favourite flowering bulbs and benefit from our specialist advice on how to plant and care for them.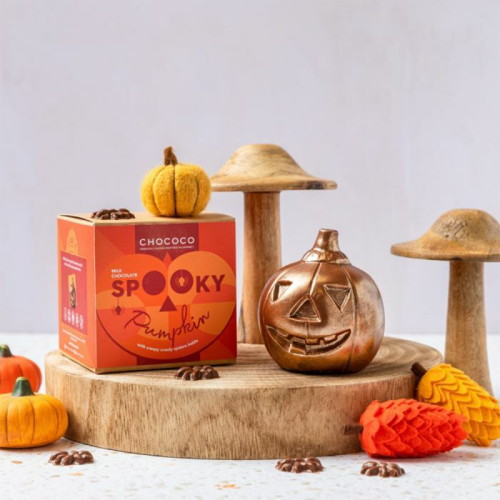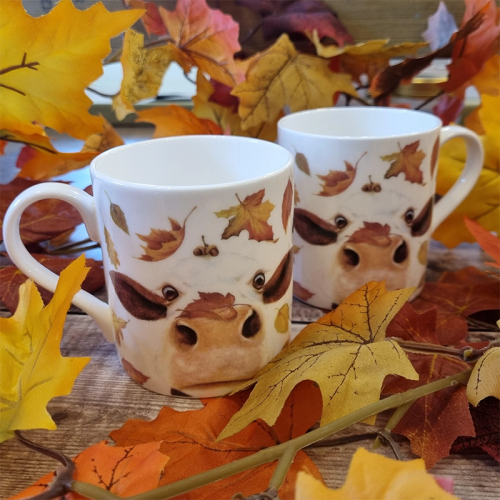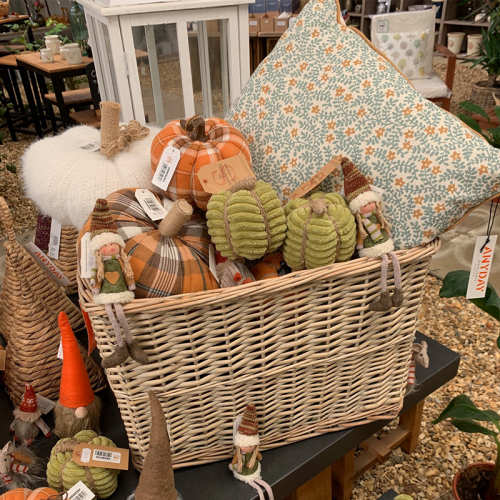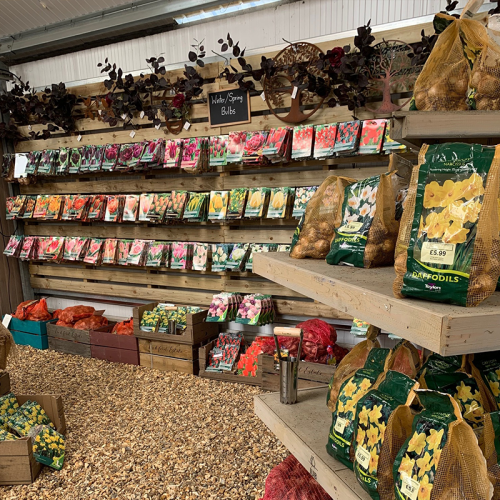 Explore The Water Garden Near You
The Longstock Park Water Garden is one of Hampshire's hidden gems, beckoning visitors with a symphony of rustling leaves, fiery hues and the tranquil sound of babbling waters. Only open till the end of October, the seasonal spectacle Longstock Park Water Garden promises to immerse visitors in the real spirit of Autumn.
Why not embark on a spellbinding adventure at the water garden in time for Halloween, where nature's 'garden giants' await your discovery? Towering Gunnera leaves, whose enormous size dwarfs even the most daring explorers, may be found among the foggy ponds and meandering paths. These leaves look like they belong in a fairy tale. The Swamp Cypress trees guard the area as they stand vigil beneath the lovely canopy of old trees, their imposing trunks and creepy, moss-covered branches lending the area an ethereal beauty. Bring your sense of wonder and curiosity as you explore this special place where nature's magic comes to life and let Longstock Park Water Garden be your place of exploration and joy this Halloween.
Christmas is Coming at Leckford Estate…
For Leckford Estate, Christmas isn't just a day of celebrations; it's a month of thrilling adventures waiting to unfold. We're preparing to make this festive season particularly special with everything from charming Christmas displays that turn the estate into a winter paradise to environmentally friendly solutions. Join us as we celebrate Christmas in a spirit that combines time-honoured customs with modern environmental awareness, all set against the backdrop of our idyllic rural retreat. We are very excited to share the warmth and excitement of Christmas with you very soon!