Conscious
When we use soil and composts in your garden we've made sure they are peat free. Peatlands play an important role in storing large amounts of carbon and we are helping to maintain these by not using peat in our products.
We will aim to remove all plastics as soon as possible. Where we still have plastic pots we can recycle or reuse these in our own nursery and through our pot swap service located in our farm shop car park.
Letting nature thrive naturally helps encourage beneficial insects and wildlife. Longstock Park Landscapes specialises in wildflower turf and we can offer ideas on how this can be used in your garden. Using our wildflower turf, even in a small way, will allow you to help nature, naturally and easily. This type of turf can be incorporated into your regular lawn or planted as a whole lawn on its own on a small or large scale.
Using plants to help insects and wildlife thrive is a great option when planning a garden.
Our plant specialists at our own nursery can help you choose plants that encourage beneficial insects and wildlife into your garden, making sure they work with your garden design too.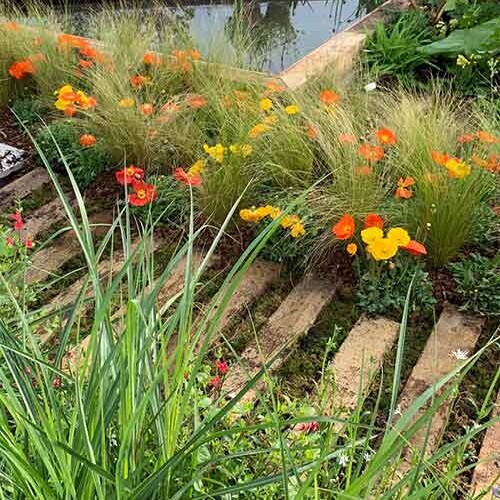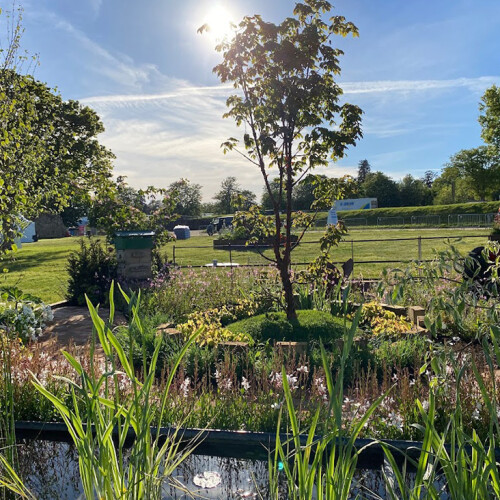 Sustainable
For many years we have worked with and supported local and regional growers, who share our values and grow sustainably.
Our garden design services are supported by our very own plant nursery. We already have a range of plants and trees in stock and can usually source any out-of-stock varieties quickly from our trusted growers. In addition, our plant nursery Partners are available to help and advise when you visit the nursery.
We can help you find ways to promote wildlife, save water, and avoid the use of peat – helping the Royal Horticultural Society (RHS) reach its peat-free target of 2025 or sooner.