Sustainably Sourced Christmas Trees at Longstock Park Nursery
Revel in the joy of the festive season by visiting Longstock Park Nursery to hand-select your own Christmas tree. Stroll through our walled garden nursery and browse our extensive range of locally sourced Christmas trees. You can enjoy the warmth of the season alongside our large fire pit and stop off for light refreshments at our Cherry Tree Cafe in Longstock Park.
Make your home come alive with the scent of freshly cut Christmas trees, all sustainably sourced from British growers. Choose from a selection of shapes, sizes and different varieties to find the centrepiece for your festive celebrations. Whether you prefer the classic fir or an aromatic spruce, we have the perfect Christmas tree to light up your celebrations.
Our friendly staff are always on hand to assist you in choosing the perfect tree and can provide a helping hand to the car, arrange delivery and even offer advice on how to keep your tree in tip-top shape across the festivities. If you'd like to arrange delivery, please get in touch with our team.
Choose Your Perfect Christmas Tree, Cut or Potted!
This season you could take a fresh approach to your Christmas tree tradition. At Longstock Park Nursery, we offer a delightful range of potted Christmas trees that promise to bring a touch of magic to your festivities. Potted trees can be replanted after the celebrations which helps reduce waste and can make a nice addition to your garden or patio to bring you joy year-round.
Miniature potted Christmas trees: This choice adds a festive touch to any area, whether it's the focal point of your house or just a festive accent to another room. It's ideal for tabletops and smaller rooms.
Medium potted Christmas trees: Perfect for most living rooms and creating a cosy welcoming atmosphere.
Large potted Christmas trees: You can make a statement with a larger potted tree, creating a grand feature in your living space, hallway or at the front door.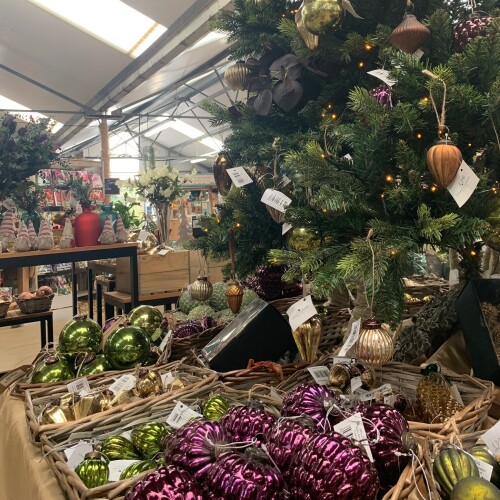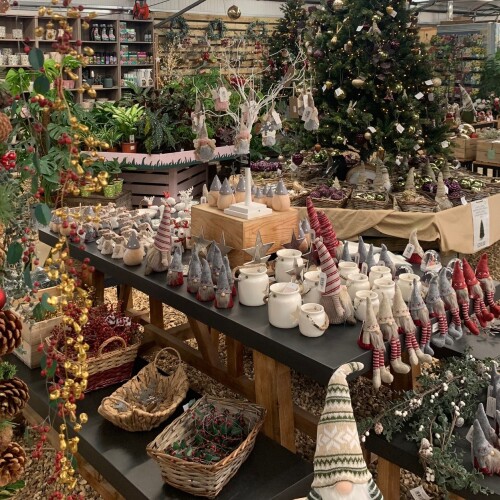 The Joy of Seasonal Food at Longstock Park Farm Shop & Cafe
Explore our enchanting range of Christmas food and drink, carefully curated to make your festive season truly special. From traditional favourites to unique, locally-sourced goodies, we've got something for everyone.
Local Produce: At Longstock Park Farm Shop, we take pride in supporting local producers and artisans all year round. Particularly at Christmas, this means we can support and showcase some of the finest seasonal produce from the region and the Hampshire area.
Indulge in Seasonal Flavours: Savour the festive spirit with delicious mince pies, tasty cakes and Christmas puddings. Don't forget to explore our selection of handcrafted chocolates, perfect for gifting or simply treating yourself!
Raise a Glass: Our selection of wines, spirits, and non-alcoholic beverages is ideal for toasting the season. Indulge in a warming glass mulled wine, local craft beers or select from our wide range of spirits to warm your heart. Leckford Estate proudly makes our own English sparkling wine, so head over to the Longstock Park Farm Shop to treat yourself to a bottle of Leckford Estate Brut.
Gifts Galore: Find the perfect gifts for your loved ones in our Longstock Park Farm Shop, choosing from locally sourced and handcrafted treasures. Foodie treats that you and your guests will love and uniquely crafted gifts that are sure to please a loved one. There's an array of thoughtful present ideas, that'll bring smiles to their faces.
Farm Shop Cafe Delights
After shopping, why not relax in our cosy farm shop cafe? Enjoy a delicious coffee or a refreshing tea, warming soups and hearty sandwiches made with the finest local produce. Nestled alongside our Longstock Park Farm Shop and Nursery, set in a delightful oak-beamed building, the cafe offers an idyllic setting to stop off, relax and enjoy tasty treats this season.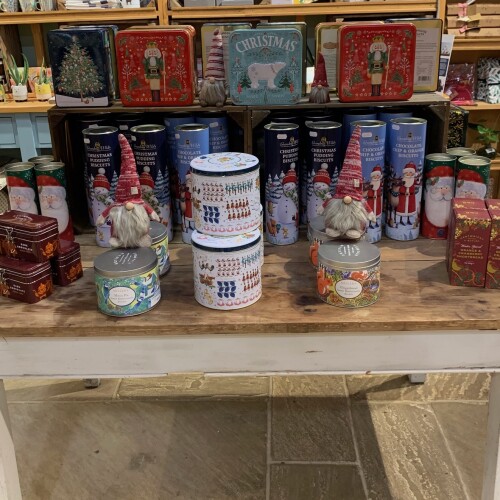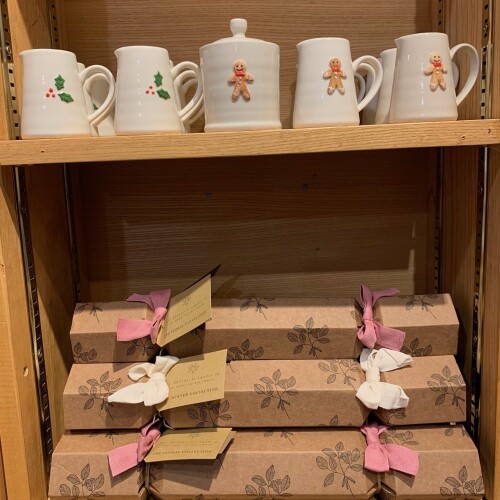 Unwrap the Magic of Longstock Park Nursery's Garden Shop
You can bring the magic of Christmas into your home and garden with our selection of festive delights
Decorative Wreaths and Garlands: Transform your home with our beautifully crafted wreaths and garlands. Handmade with the freshest greenery and adorned with seasonal ornaments, these pieces will add a touch of seasonal sparkle to your surroundings. You can also join us for our wreath-making events on 29th November 2023 and 1st December 2023.
Indoor and Outdoor Lighting: Turn your indoor and outdoor spaces into a winter wonderland with our enchanting range of Christmas lights. Whether you're adorning your Christmas tree or lighting up your patio and garden areas, our lights will help you brighten up your festivities and bring a magical glow to your celebrations.
Winter-Ready Plants: Enhance your outdoor space with cold-resistant winter plants. Our selection includes vibrant winter flowering shrubs, frost-resistant perennials and evergreen trees to keep your garden lively even in the chilliest of months.
Garden Accessories: Discover a selection of garden essentials from our garden shop. From durable gloves that protect your hands comfortably to precision Niwaki tools that elevate your gardening tasks to a whole new level! Our ranges cater to both seasoned and budding gardeners, so unearth the perfect gift for the gardener in your life.
Gift Ideas: Looking for some gift ideas? Explore our Longstock Park Garden Shop for some enchanting Christmas gift ideas that bring the spirit of Christmas indoors and outdoors. A delightful collection of bird feeders to encourage nature into your garden, candles that will set the ambience in any home with their scent and glow and timeless ornaments and accessories suitable for both indoors and outdoors.
Create a haven of warmth and comfort with some of our Garden Shop's winter essentials. Cosy blankets and cushions so you can embrace the season while staying comfy and warm. Take your celebrations outdoors as you gather around an inviting fire pit with friends and family.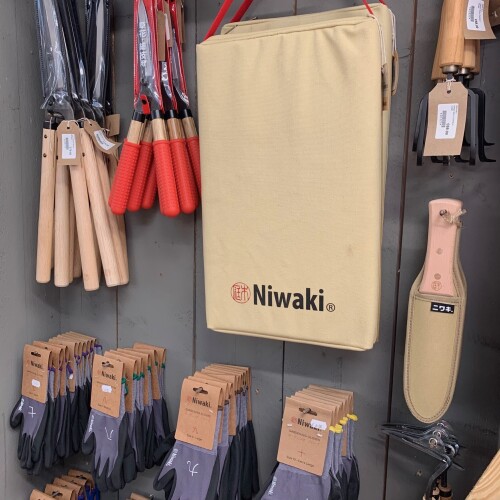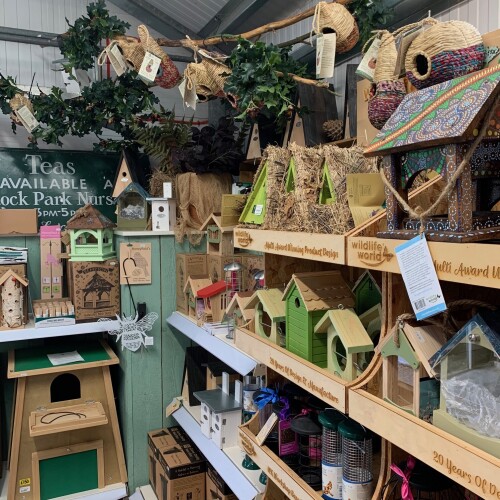 Gift of Choice: Longstock Park's Gift Card
Looking for a present that offers possibilities? Surprise your loved ones with a Longstock Park Gift Card and let them explore Longstock Park for themselves. They can choose from a variety of plants, tools, garden accessories and even our gardening services. Not only can they spruce up their outdoor spaces, they can indulge themselves in the Farm Shop and Cafe - discovering an array of freshly prepared food and treats all year round or exploring a range of culinary delights and crafts in the Farm Shop.
Visit and Join in with the Magic: Christmas Events at Longstock Park
Join us for a season of festive events with your friends and family.
Christmas Shopping Evening: Discover some of the best of local and regional goods, and meet the producers behind the products at our Longstock Park shopping event this November. There will be unique gifts, artisanal discoveries and great food and drink.
Wreath-Making Workshops: Unleash your creativity and deck your halls with your own creation this Christmas. We're running two wreath workshops this year, where you will be guided by our very own skilled instructors in the art of crafting a Christmas wreath.
We're committed to sustainability and we source our products carefully from responsible producers and suppliers.
So come and experience the joy of Christmas with us at Longstock Park, and create cherished memories with your friends and family.