The product
We harvest around 25 tonnes of mushrooms every week, each one checked for perfection and all of excellent quality. Our mushrooms have a beautiful buttery, nutty flavour too.
They can be used as a delicious, low-fat ingredient in many dishes, including risotto, spaghetti bolognese and stroganoff, as well as plenty of vegan and vegetarian options. We love them stuffed or on toast.
The process
Our mushrooms are produced over a six-week cycle, year-round. Their compost is made just a mile away and already contains mycelium, so all we need to do is nurture the cells.
We keep the growing cells at precisely the right temperature and humidity to emulate autumn and allow them to flourish.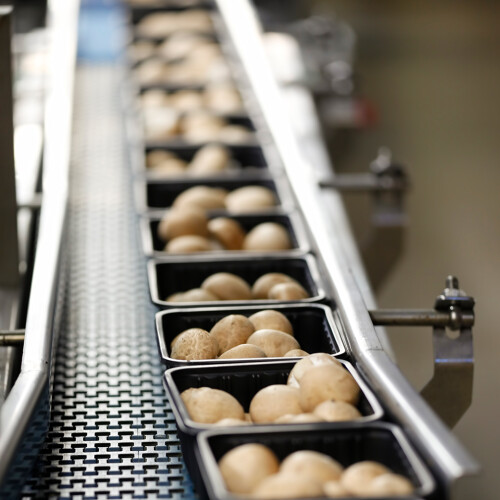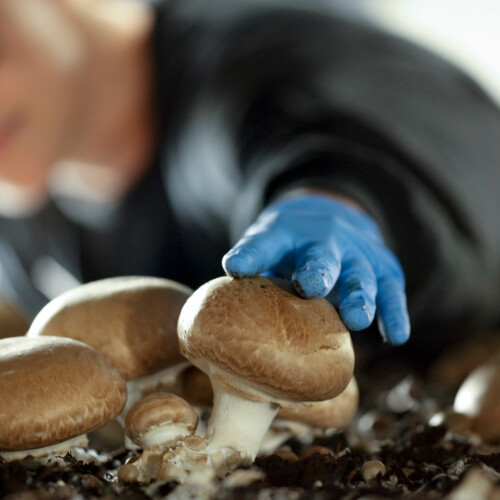 The team
Our team of production Partners includes growers, harvesters, packers, distributors, and quality and technical experts.
Our growers fill the growing cells with compost when they arrive, ensure the successful development and quality of our produce, and remove the spent compost at the end of the cycle. Our growing team is managed by our senior grower, who has many years of experience and extensive knowledge in growing fungi.
Then, our harvesters use their keen eye to pick each variety of mushroom using the utmost care, guaranteeing they reach our customers in the very best condition.
Finally, our packhouse and distribution Partners pack and load our mushrooms quickly and carefully, sending these to our farm shop and Waitrose & Partners stores.
Throughout the production process, Partners from our quality team provide expertise around food safety and compliance.
Ethics & sustainability
Our entire strategy is focused on circularity and waste reduction. This includes reusing compost in our gardens, grounds and farmland and donating surplus mushrooms to the charitable organisation Fareshare for distribution to good causes locally. They recently told us, "Getting fresh produce like mushrooms makes a huge difference to the charities we support and allows them to make meals that are both tasty and nutritious."
All our mushrooms are sold in a recyclable, clear plastic punnet, and our mixed pack of mushrooms also allows us to offer more mushrooms in more ways.
We're always looking to improve the way we work and aim to become a carbon-net-zero operation. With this in mind, we're currently investigating removing packaging, trialling picking lorries to enhance our productivity, and finding alternative ways to clean our production unit.
Uses & benefits
Mushrooms are incredibly versatile and a fantastic source of vitamin B.
They're often used as a meat-free cooking alternative and can be used in a range of recipes.
Why not try combining with garlic and using as a topping for bruschetta, or swapping a burger patty for a large, flat portobello mushroom? They're great cooked on the barbeque.
Awards & accolades
Our mushroom facility has a BRC AA award and certification from Red Tractor.
We're proud to have five-star reviews on waitrose.com and to supply some of the top local restaurants.