Transform your garden by adding pots that can bring colour and interest all year round. Create a focal point using pots and planters if space is limited.
We have a wide range of pots and planters at Longstock Park nursery, helping you to create your own container garden for instant impact.
Once you've found the perfect planter we can help you choose the plants. There are lots of plants that work well in pots meaning you can create a stunning garden with year round interest.
We've put together our guide to building a container garden and how you can keep it looking great across the seasons.
CHOOSING POTS & PLANTERS
Pick pots that are frost resistant and make sure the pot allows for water to drain away.
Always pick a pot that is 1 - 2 sizes larger than the plant you are planting - giving your plant's roots enough room to grow.
HOW TO USE POTS & PLANTERS IN YOUR GARDEN
Use different size pots to create structure
Pots and planters grouped together tend to look better and create more of a feature. Group pots together in odd numbers such as 3 or 5 in a group
If you have collected lots of different pots over the years you can make them work well together by planting the same type of plant across all of the pots. Repeat planting gives coherence to the arrangement.
Use pots in borders alongside plants in the ground
OUR FAVOURITE PLANTS FOR POTS
Not all plants love to be in a pot, but from those that do we've suggested some you might like to use in your pots and planters.
Herbs
Annuals
A plant that has patio in its name such as 'patio apple tree'
Half hardy plants that need protection in winter such as Canna Lilies and some Salvias
Choose a focal plant such Cordyline Australis
Choose plants that spread or spill over the sides of your pot or planter such as Ivy in winter and Nemesia in summer
Smaller plants such as bulbs, Geraniums and Sedums with small leaves and flowers that give interest across the year are great as fillers
Plants in pots for shady spaces
Foliage plants work well in shady positions.
Ferns and Fatsia Spiders Web work well in pots and have dark green and variegated foliage.
Flowering plants such as Helleborus and Skimmias will grow well in pots in a shaded or semi-shaded position.
Plants in pots for a sunny spaces
Geraniums and Lavender work well in pots over summer
Christmas Box and Camellias for a warmer, sheltered spot over winter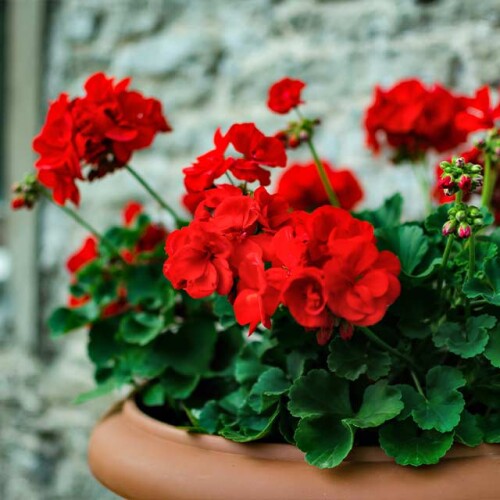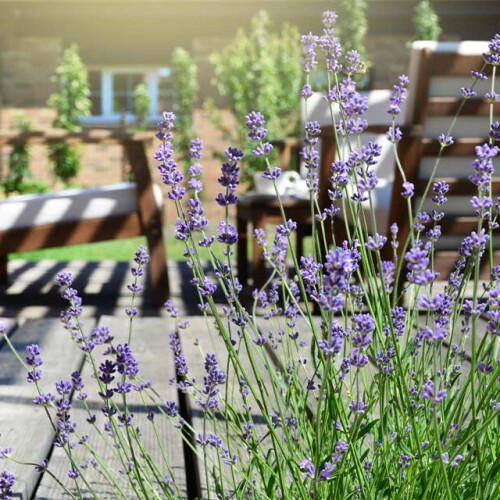 Feature plants for pots
If you have a feature pot then you will need a feature plant for it. We've listed some of our favourite feature plants that work well in pots either on their own or with some subtle underplanting.
Citrus trees in a warm, hot place in your garden. These look great on a patio
Olive trees look fabulous in a suitable pot, in a sheltered position
Bay trees in a pot by the door give height and frame a doorway nicely
Use John Innes number 3 when planting perennial plants and shrubs into pots and a peat free multi purpose compost for annuals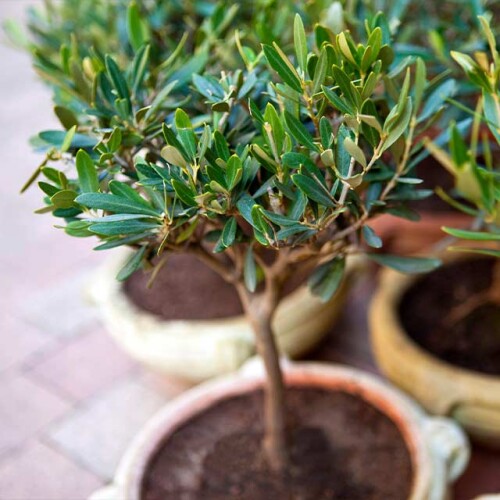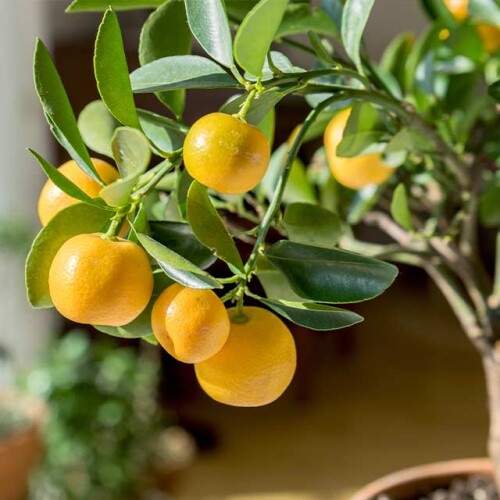 Plants for eating and cooking
Pots can be great for growing some fruits and vegetables, and a container full of herbs not only smells great but is a real treat when you want fresh herbs for your cooking.
We've listed some of our favourite things to eat that can be grown in pots;
Parsley
Thyme
Strawberries
Blueberries
Tomatoes and Chillies
TIPS & ADVICE
Water regularly but do not allow pots to become waterlogged
Use a liquid feed throughout the growing season
Mulch the surface of the pot with grit to retain moisture
Deadhead regularly to stimulate new flower production
Make an Enquiry
We have an extensive range of plants, trees and shrubs for sale. Please complete our Plant Enquiry Form to find out if we have your particular product in stock.
We can deliver too
We sell lots of large trees and specimen plants and we can help you with delivery making sure these get back to your garden safely. Speak to our Partners about delivery, it's usually no trouble at all.
To qualify for delivery we require a minimum spend of £50
Delivery is free up to 10 miles
Delivery between 10-20 miles is £10
Delivery 20+ miles is charged at £10 plus £2 per mile