Grown on their farm in Shropshire, David Austin roses are lovingly cared for before they are sent off to be enjoyed in gardens up and down the country. We also work with other rose growers, meaning we can offer our customers the very best range. So if you're looking for a particular rose just speak to us and we'll do our best to find it for you.
Rose Selection
Selecting a rose for your garden is usually a matter of personal choice, it often relates to the colour and nearly always the scent. The range we offer at Longstock Park nursery means we should have the perfect rose for you.
If you're unsure whether you want your rose in a rose bed, a mixed border, rambling over an old garden shed or climbing through a pergola or even on the patio in a pot, then come and see the range we have at Longstock Park Nursery and be inspired. We're here to help too so don't hesitate to speak to us for advice or if you're after a particular rose then we can help.
TOP 10 ROSE FAVOURITES
Our favourite top 10 include roses with great colour, scent, easy to grow and long lasting appeal. In no particular order.
| | |
| --- | --- |
| 1. Zepherine Drouhin | A thornless climber, carmine pink semi double, very fragrant. |
| 2. Paul's Himalayan Musk | A tall rambler, small pale pink, strong musk fragrance. |
| 3. Natasha Richardson floribunda | Has clusters of fragrant baby pink flowers. Good disease resistance. Great for containers. |
| 4. Absolutely Fabulous floribunda | A soft primrose yellow with liquorice fragrance, good disease resistance. |
| 5. James L Austin | An English shrub rose, repeat flowering with deep pink flowers and a medium, fruity fragrance. |
| 6. Hot Chocolate floribunda | An unusual rose with russet brown blooms and dark glossy foliage. |
| 7. Fruity Parfuma floribunda | A pom pom shaped raspberry red flower, with delightful fragrance, good disease resistance. |
| 8. Tottering by Gently | A repeat flowering shrub, with single, yellow and lightly fragranced flowers. |
| 9. Climbing Arthur Bell | A climbing rose with sprays of creamy yellow flowers in summer and autumn and glossy foliage. |
| 10. Starry Eyed | A great patio rose with single red flowers with a yellow eye. Trouble free and ideal for pots. |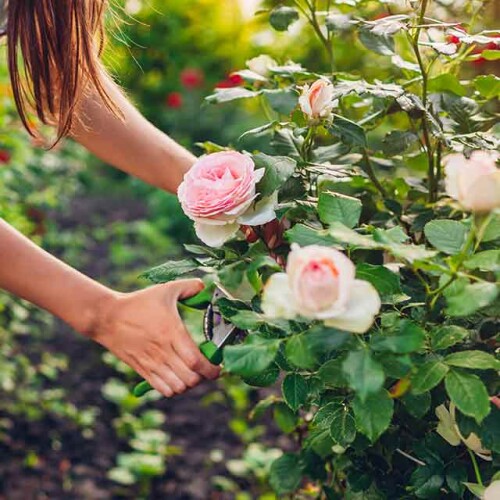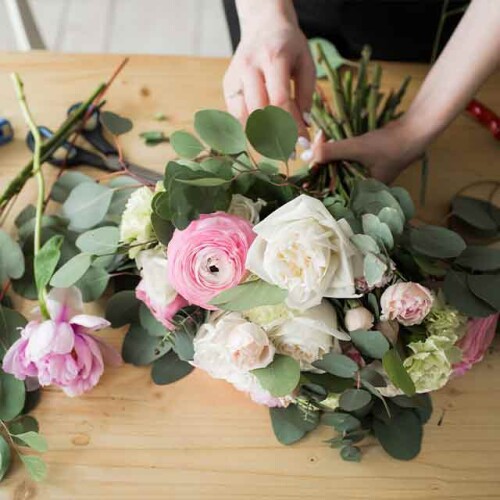 USING ROSES AS CUT FLOWERS
The rose is perfect for using as a cut flower for your indoor display. Having a sturdy stem and buds that open gradually, it's one of the most appealing cut flowers. Follow our tips below for making the most of your garden roses indoors.
Trim the stems to between 3 - 5cm, cutting at an angle to maximise water uptake.
Making sure that your roses are roughly double the height of the vase.
Strip off any leaves that would otherwise be under water.
Change the water daily.
GROWING TIPS
Plant in full sun
Give them moist, well drained, rich soil to thrive
Don't overwater roses, the soil must stay moist but not waterlogged
Feed roses regularly as they are extremely hungry plants
Prune roses every year to promote healthy growth, encourage flowering and to keep their shape.
Make an Enquiry
We have an extensive range of plants, trees and shrubs for sale. Please complete our Plant Enquiry Form to find out if we have your particular product in stock.
We can deliver too
We sell lots of large trees and specimen plants and we can help you with delivery making sure these get back to your garden safely. Speak to our Partners about delivery, it's usually no trouble at all.
To qualify for delivery we require a minimum spend of £50
Delivery is free up to 10 miles
Delivery between 10-20 miles is £10
Delivery 20+ miles is charged at £10 plus £2 per mile